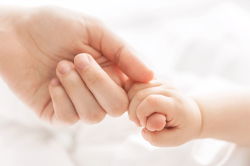 Congratulations on your new addition. Mid Kansas Pediatrics is here to provide high quality healthcare for your newborn and guide you through their journey from  infancy to young adulthood.
As a new parent we know you may have lots of questions. We look forward to helping you find answers and partnering with you throughout your child's journey. All of our physicians and support staff are trained to educate you on common and current pediatric topics as well as provide preventive care.
The very first step is our optional pre- natal visit. All of our physicians are currently accepting newborn patients and we would be happy to schedule a visit so you can meet some of our staff and get acquainted with our office. Please call one of our convenient locations for more information on scheduling a pre-natal visit.
We know this is an important decision and we appreciate you considering Mid-Kansas Pediatrics for your child's healthcare needs.
We have compiled a list of resources to help you prepare for your upcoming addition:
"Caring for your baby and young child, 6th edition: Birth to age 5" by the American Academy of Pediatrics,
http://www.healthychildren.org
http://www.parents.com/baby/care/